IYASHI
DÔME: A
HOLISTIC SOLUTION
Here at Iyashi Dôme, we believe the treatment experience has a place in the bigger picture.
Through the beneficial effect of far infrared rays, enjoy wellness on a deeper level where all the senses are engaged and the benefits are scientifically proven!
With close to 20 years' experience in the market, our Iyashi Dôme treatment device combining technology with tradition has become a quality reference for TREATMENTS and is designed for men and women looking for a deep body-detox solution to effectively eliminate toxins (in particular heavy metals), or wanting to slim, regenerate their cells, boost skin rejuvenation (visible results even on the face) or for sports preparation and recovery.
Thanks to our Japanese High Technology and "Iyashi Dôme" mobile app, we have made contactless treatment protocols available with a hands-free device that is safe, effective and profitable.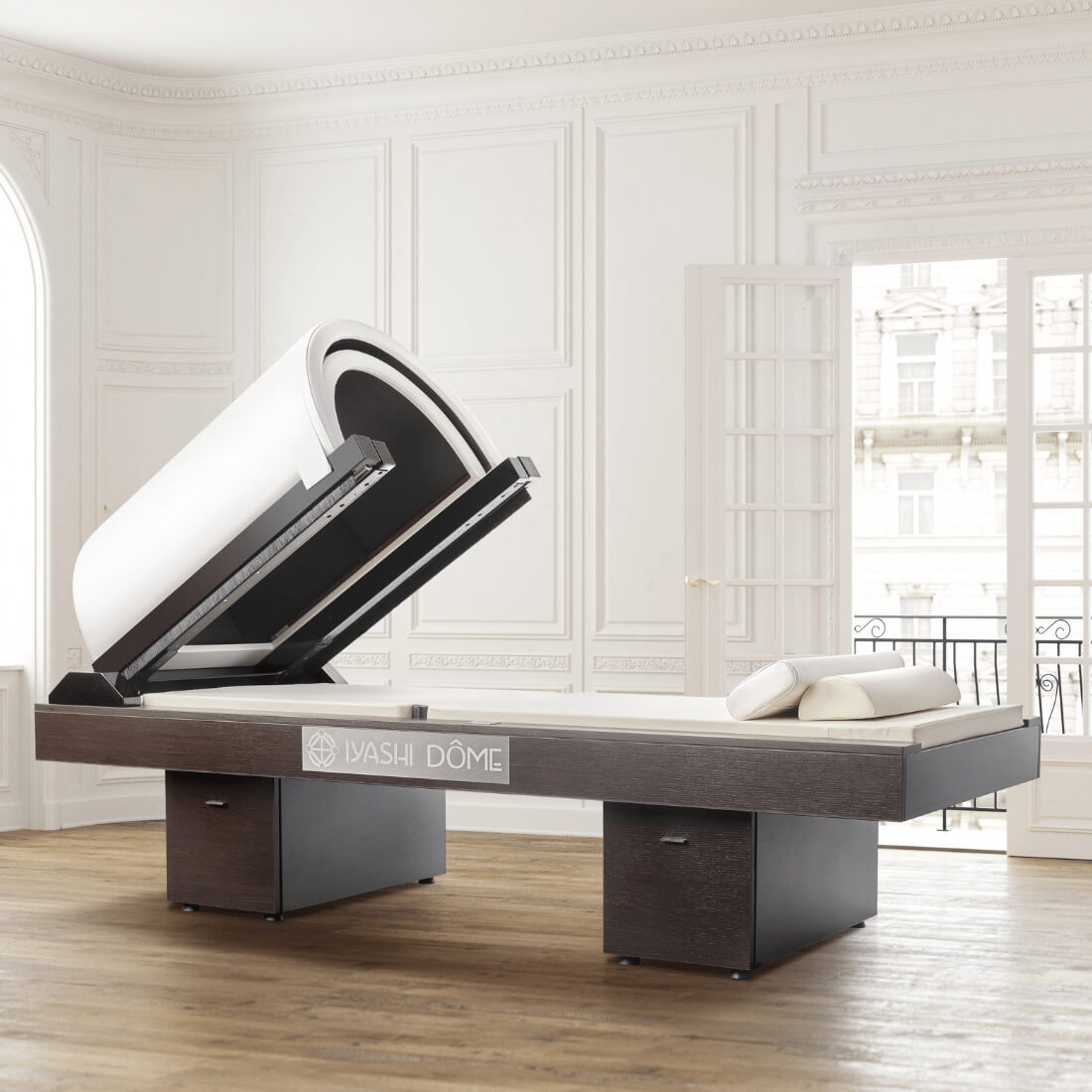 Holistic wellness encompasses the treatment methods based on an approach to being healthy that considers the whole person.
BEING EQUIPPED WITH THE IYASHI DÔME...
Above all, it is offering an unparalleled treatment and experience!
As soon as the client enters, the welcome ritual guided by the artful tradition of Omotenashi falls into place: welcome drink, Oshibori and spirit of hospitality…
The Iyashi Dôme experience goes beyond the simple treatment, translating into a myriad of attentive gestures and details addressing the 5 senses and embracing holism.
An absolute treatment in its own right, the Iyashi Dôme experience also accompanies many treatments, preparing the body and mind or complementing a treatment's action.
Combining far infrared radiation (FIR) with a deep tissue massage, body wrap or beauty treatment is a great way to reap benefits on multiple levels. Your client's results – both objective and subjective – will be key to your success. In addition to the results, your client will have experienced a unique combination of treatments, affirming your centre as an expert in signature treatments.
NEW: GENTLE SESSIONS !
Iyashi Dôme is always looking for ways to improve the client experience and, over the years, has developed new approaches to treatments.
Today, we are delighted to introduce what we call "gentle" sessions that provide a condensed experience of the benefits of FIR with no sauna-induced sweat. The deep-skin penetration of FIR has an antalgic and beneficial action that releases tension, gently boosts the metabolism and resets your circadian rhythm for an overall restorative treatment.